"Smart Glass" Product which able to change between opaque and transparant instantly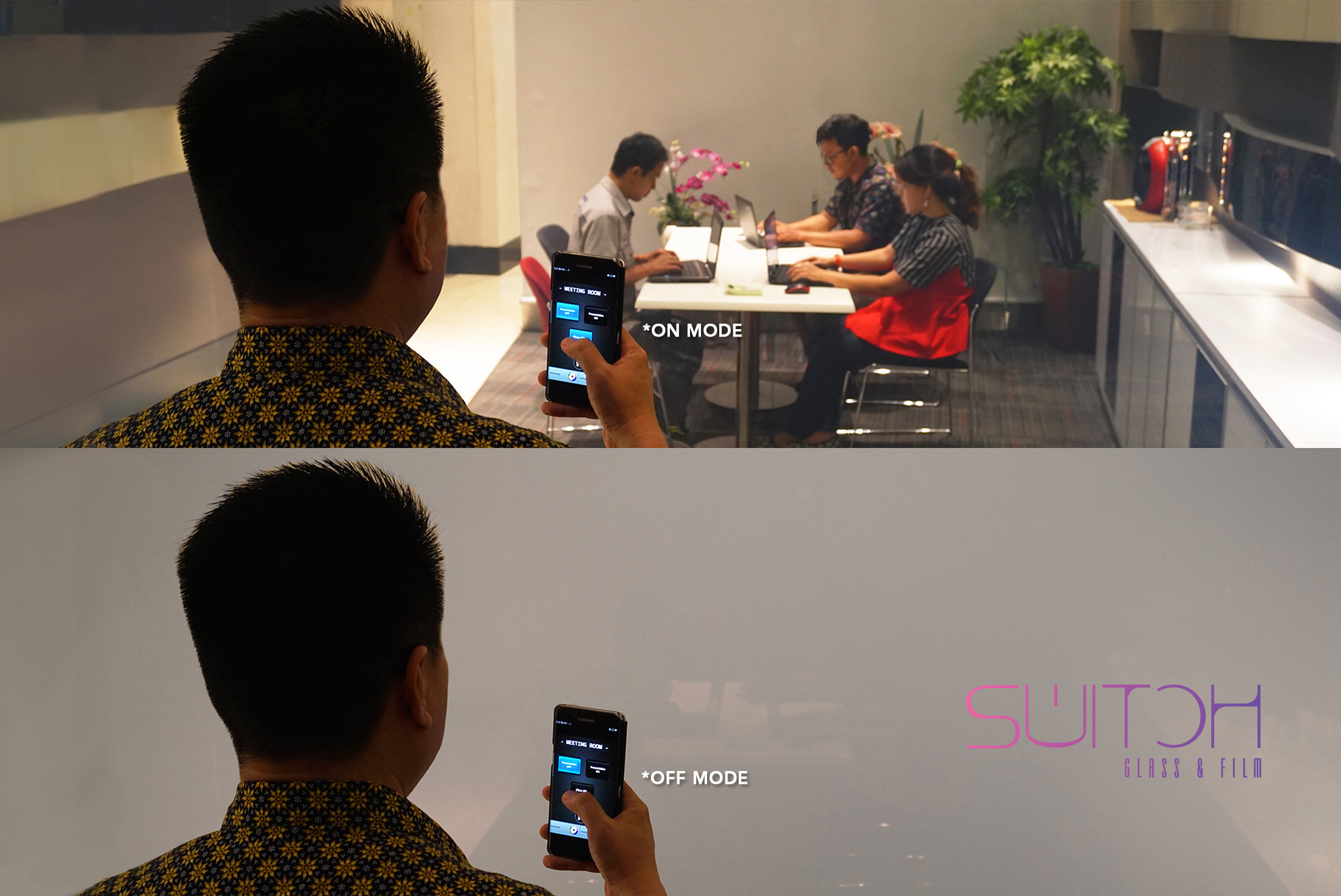 | TIPE | KETEBALAN | UKURAN MAKSIMAL (LxT) |
| --- | --- | --- |
| Annealed - Clear Float Glass | 5 mm + 5 mm (=/- 11 mm) | 1500 x 3000mm |
| Tempered - Clear Float Glass | 5 mm + 5 mm (=/- 11 mm) | 1500 x 3000mm |
| Annealed - Crystal Clear Glass | 5 mm + 5 mm (=/- 11 mm) | 1500 x 3000mm |
| Tempered - Crystal Clear Glass | 5 mm + 5 mm (=/- 11 mm) | 1500 x 3000mm |
| Curved Annealed - Clear Float Glass | 5 mm + 5 mm (=/- 11 mm) | 1500 x 3000mm |
| Curved Tempered - Clear Float Glass | 5 mm + 5 mm (=/- 11 mm) | 1500 x 3000mm |
| Annealed - Clear Float Glass | 3 mm + 3 mm (+/- 7 mm) | 1500 x 3000mm |
| Tempered - Clear Float Glass | 3 mm + 3 mm (+/- 7 mm) | 1500 x 3000mm |
| Annealed - Clear Float Glass | 4 mm + 4 mm (+/- 9 mm) | 1500 x 3000mm |
| Tempered - Clear Float Glass | 4 mm + 4 mm (+/- 9 mm) | 1500 x 3000mm |
| Annealed - Crystal Clear Glass | 4 mm + 4 mm (+/- 9 mm) | 1500 x 3000mm |
| Tempered - Crystal Clear Glass | 4 mm + 4 mm (+/- 9 mm) | 1500 x 3000mm |
| Annealed - Clear Float Glass | 6 mm + 6 mm (+/- 13 mm) | 1500 x 3000mm |
| Tempered - Clear Float Glass | 6 mm + 6 mm (+/- 13 mm) | 1500 x 3000mm |
| Annealed - Crystal Clear Glass | 6 mm + 6 mm (+/- 13 mm) | 1500 x 3000mm |
| Tempered - Crystal Clear Glass | 6 mm + 6 mm (+/- 13 mm) | 1500 x 3000mm |
| TIPE | KETEBALAN | UKURAN MAKSIMAL (LxT) |
| --- | --- | --- |
| Switch Film | - | 1200 x 3200mm |
SWITCH GLASS 
Switch Glass is a unique combination between glass, PET, and Polymer Dispersed Liquid Crystal integrated in a switchable interlayer unleashes the power to change the view from opaque to clear, electrically. Switch Glass have a function that the transmittance of the glass can be controlled by electrical switching. At the same time, they have a function of the rear projection screen ( Projector Glass) as well as Interactive Glass.
APPLICATIONS
Architectural windows (Interior/Exterior), Interior partition, Facade, Shop Front Window, Conference Room, Control Room, TV Studio, Exhibition, Showroom, etc.
STRUCTURE & OPERATING PRINCIPLE
Polymer Dispersed Liquid Crystal layer exists between two pieces of transparent conductive film (ITO-PET film) in a phase separated structure of liquid crystal domain and polymer matrix. When the electrical power is off, the randomly oriented liquid crystal domains scatter light (opaque). However, when the electrical power is applied, the liquid crystal molecules in the domain orient along the direction of electric field and it allows the light to pass through the film (transparent).
FEATURES
As a Privacy Glass:
User's comfort and privacy
Protection of interior furniture & valuable items from UV damage (UV blocking : more than 98%)
Safety & security (Laminated glass)
Operate on ordinary AC voltage (110VAC)
Low power consumption (+/- 4.0 watts per square meter)
As a Projector Glass:
High bright and resolution
Large viewing angle
Durable & easy to clean (Glass surface)
Projection equipment is hidden behind (Rear Projection)
High acoustic performance : avoid noise from the projector
Eye catching : transparent at will (ON)
As an Interactive Glass:
Get the interactive functions by adding a touch screen sensor device or motion sensor device.
Attach the Switch Film directly on the existing glass. It will produce the same function as Switch Glass.
Applications :
Architectural windows (Interior/Exterior)
Interior partition, Facade, Shop Front Window, Conference Room, Control Room, TV Studio, Exhibition, Showroom, etc
Features :
Easy & simple installation (no glass glazing work)
Lower cost