Back-painted glass from Himalaya Abadi with the most number of color options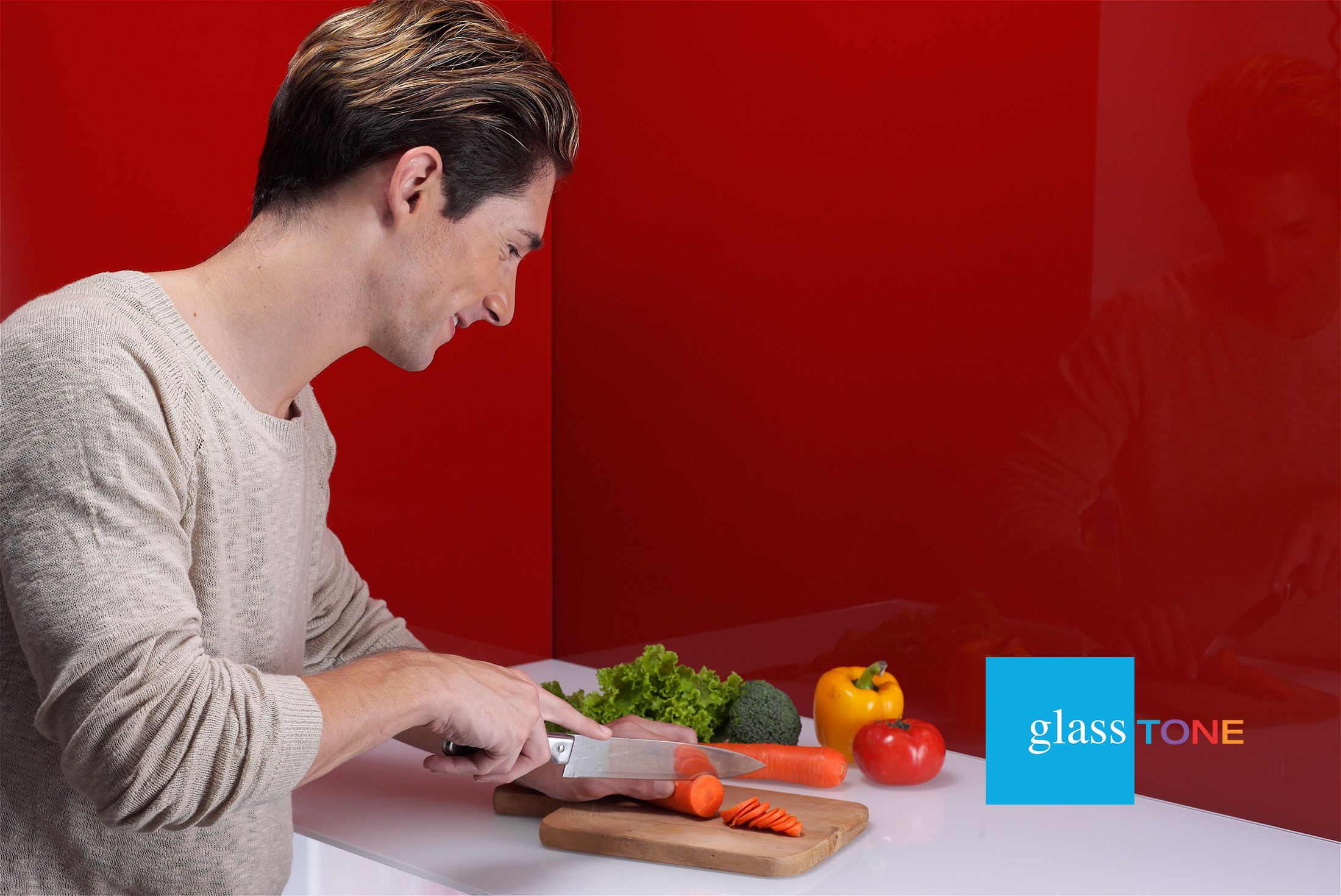 GLASSTONE STANDARD SPECIFICATIONS
| TYPE | THICKNESS | MAX SIZE (WxH) |
| --- | --- | --- |
| GlassTone Mono White | 5 mm | 2140 x 3300 mm |
| GlassTone Mono Black | 5 mm | 2140 x 3300 mm |
| GlassTone Mono Super White | 5 mm | 2140 x 3660 mm |
| GlassTone White | 5 mm | 2134 x 3302 mm |
| GlassTone Black | 5 mm | 2140 x 3300 mm |
| GlassTone Super White | 5 mm | 2140 x 3660 mm |
| GlassTone Red | 5 mm | 2134 x 3302 mm |
| GlassTone Yellow | 5 mm | 2140 x 3300 mm |
| GlassTone Orange | 5 mm | 2134 x 3302 mm |
| GlassTone Blue | 5 mm | 2134 x 3048 mm |
| GlassTone Light Grey | 5 mm | 2140 x 3300 mm |
| GlassTone White | 8 mm | 2134 x 3048 mm |
| GlassTone Super White | 8 mm | 2140 x 3660 mm |
| TYPE | THICKNESS | MAX SIZE (WxH) |
| --- | --- | --- |
| GlassTone Matte White | 5 mm | 2080 x 3250 mm |
| GlassTone Matte Black | 5 mm | 2080 x 3250 mm |
| GlassTone Matte Super White | 5 mm | 2080 x 3610 mm |
| GlassTone Matte Bronze | 5 mm | 2080 x 3610 mm |
| GlassTone Matte Grey | 5 mm | 2080 x 3610 mm |
| TYPE | THICKNESS | MAX SIZE (WxH) |
| --- | --- | --- |
| GlassTone RAL Color on Clear Float Glass | 5 mm | 2140 x 3302 mm |
| GlassTone RAL Color on Crystal Clear Glass | 5 mm, 6 mm, 8 mm, 10 mm, 12 mm | 2140 x 3660 mm |
| GlassTone RAL Color (Matte) on Clear Float Glass | 5 mm, 10 mm | 2080 x 3250 mm |
| GlassTone RAL Color (Matte) on Crystal Clear Glass | 5 mm, 10 mm | 2080 x 3510 mm |
GLASSTONE
GlassTone  is a painted or coated glass product, using proprietary glass paint, applied to one side of the glass material, that provide a solid, durable and lasting finish. Applying color on glass creates fascinating appearance, which enhance quality to your design.
The backside of GlassTone is coated with protective cover paint that protects the glass-paint from peeling-off during transportation or installation process. The coat also hides the unnecessary view of the adhesive materials from the front side of the glass.
These days architects, designers, and building owners have shown their curiosity in applying glass into more infinite applications.
CUSTOM COLOR
Now, the color and thickness of GlassTone can be customized to suit your design inspiration. With the RAL Color Chart, now you can get any color you want on Glasstone. Furthermore, you can now choose the glass substrate and the correct thickness that will optimize your room design and with the specification that you want.
Custom Color allows you to create a back painted glass with the thickness that varies from 5 mm to 12 mm which can be produced on clear float glass, extra clear glass (Crystal Clear Glass), or even a frosted glass (Acid Etched Glass) to create doff effect to your room.
Furthermore, Custom Color is also a painted glass product that can undergoes a tempering process. Therefore for some application that requires the painted glass to be tempered, it can be accommodated using this product.
STANDARD COLOR
GlassTone has standard colors that are ready to fulfill your needs. For any project that requires a less lead time, and thus requires the works to be faster, Standard Color can be the solution for it to fasten the processing and application process.
GlassTone Standard has 8 color variations which can be selected according to your needs. Furthermore, Standard Color has a uniformed thickness of 5 mm with a sizable amount of maximum module size. Therefore it can accommodate application that requires bigger module sizes.
APLICATION
GlassTone is widely used for applications such as kitchen backsplash, interior feature walls, pillars' cover, elevator walls, furniture, white-boards, counter tops, and many other panelling functions that this material may well perform.
FEATURES
Outlast most current architectural finishes
Easy to clean
Offers structural strength and durability